Roomster
we're proud football fans, that said, we are planning on throwing a kick ass Super Bowl Party some time soon.
We want to share some recipes that we consider to be easy to make, quick and delicious. Mind you, that the recipes will make your mouth water, and they are perfect for sharing with friends, family and/or
roommates
.
Chorizo & Shrimp Quesadillas
w/ Smoky Guacamole
Ingredients
2 ripe Haas avocados
1 lime, juiced
A couple pinches salt
1/4 cup sour cream, 3 rounded tablespoonfuls
2 chipotle peppers in adobo, available in cans on specialty food aisle in Mexican section
1/2 pound chorizo sausage, sliced thin on an angle
1 tablespoon extra virgin olive oil, plus some for drizzling
1 clove garlic, cracked away from skin and crushed
12 large shrimp, peeled and deveined, tails removed, ask for easy-peels at fish counter
Salt and freshly ground black pepper
4 (12- inch) flour tortillas
1/2 pound, 2 cups, shredded pepper Jack cheese
Directions
Cut avocados all the way around with a sharp knife. Scoop out the pit, then spoon avocado flesh away from skin into a food processor.
Add the juice of 1 lime, a couple of pinches salt, sour cream and chipotles in adobo. Pulse guacamole until smooth. Transfer to a serving bowl.
Heat a 12-inch nonstick skillet over medium high heat. Brown chorizo 2 to 3 minutes, then remove from pan. Add oil, garlic, then shrimp.
Season shrimp with salt and pepper and cook shrimp until pink, 2 or 3 minutes. Transfer shrimp to a cutting board and coarsely chop.
Add a drizzle of oil to the pan and a large tortilla. Cook tortilla 30 seconds, then turn. Cover 1/2 of the tortilla with a couple of handfuls of cheese. Arrange a layer of chorizo and shrimp over the cheese and fold tortilla over.
Press down gently with a spatula and cook tortilla a minute or so on each side to melt cheese and crisp. Remove quesadilla to large cutting board and repeat with remaining ingredients. Cut each quesadilla into 5 wedges and transfer to plates with your spatula. Top wedges of quesadillas with liberal amounts of smoky guacamole.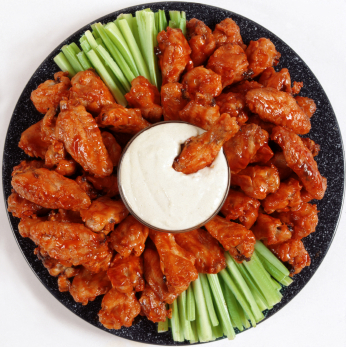 Ingredients
12 whole chicken wings
3 ounces unsalted butter
1 small clove garlic, minced
1/4 cup hot sauce
1/2 teaspoon kosher salt
Directions
Place a 6-quart saucepan with a steamer basket and 1-inch of water in the bottom, over high heat, cover and bring to a boil.
Remove the tips of the wings and discard or save for making stock. Using kitchen shears, or a knife, separate the wings at the joint. Place the wings into the steamer basket, cover, reduce the heat to medium and steam for 10 minutes. Remove the wings from the basket and carefully pat dry. Lay the wings out on a cooling rack set in a half sheet pan lined with paper towels and place in the refrigerator for 1 hour.
Preheat the oven to 425 degrees F.
Replace the paper towels with parchment paper. Roast on the middle rack of the oven for 20 minutes. Turn the wings over and cook another 20 minutes or until meat is cooked through and the skin is golden brown.
While the chicken is roasting, melt the butter in a small bowl along with the garlic. Pour this along with hot sauce and salt into a bowl large enough to hold all of the chicken and stir to combine.
Remove the wings from the oven and transfer to the bowl and toss with the sauce. Serve warm.
Ingredients
3 Haas avocados, halved, seeded and peeled
1 lime, juiced
1/2 teaspoon kosher salt
1/2 teaspoon ground cumin
1/2 teaspoon cayenne
1/2 medium onion, diced
2 Roma tomatoes, seeded and diced
1 tablespoon chopped cilantro
1 clove garlic, minced
Directions
In a large bowl place the scooped avocado pulp and lime juice, toss to coat. Drain, and reserve the lime juice, after all of the avocados have been coated.
Using a potato masher add the salt, cumin, and cayenne and mash. Then, fold in the onions, tomatoes, cilantro, and garlic.
Add 1 tablespoon of the reserved lime juice. Let sit at room temperature for 1 hour and then serve.
Ingredients
1 pound jumbo lump crabmeat, free of shells
1 cup grated pepper jack cheese
3/4 cup mayonnaise
1/4 cup grated Parmesan
1/4 cup green onions, minced, optional
5 to 6 roasted garlic cloves or 2 cloves minced
3 tablespoons Worcestershire sauce
2 tablespoons fresh lemon or lime juice
1 teaspoon hot pepper sauce
1/2 teaspoon dry mustard
Salt and pepper
Directions
Preheat oven to 325 degrees F.
Combine all of the ingredients in a casserole and gently stir until thoroughly mixed. Bake for 40 minutes. Serve hot with crackers or toast points.
Ingredients
3 russet potatoes, scrubbed
4 slices cooked bacon, crumbled
2 tablespoons butter, melted
1 clove garlic, minced
3/4 cup Cheddar
1/2 cup barbecue sauce, warm
1/2 pound pulled pork
Sour cream, for topping
2 tablespoons snipped chives, for garnish
Directions
Preheat oven to 350 degrees F.
Bake potatoes on middle rack until fork tender, about 1 hour. Remove from oven and let sit until cool enough to handle.
Bake 4 strips of bacon on a small sheet pan in the oven for 15 minutes. Crumble bacon when it's cooled.
Preheat grill to medium heat.
Cut potatoes in half, lengthwise, and spoon out the flesh, leaving a half inch shell.
Melt the butter in saucepan and add minced garlic. Brush potatoes with the butter and garlic mixture. Flip over and butter the bottoms.
Place potatoes on grill and cook until crisp, about 4 to 4 1/2 minutes on each side and remove from grill.
Divide the cheese, barbecue sauce and pulled pork among the potatoes. Top potato skins with sour cream, crumbled bacon and chives for garnish.
Ingredients
1 pound beef tenderloin, cut into 2-inch strips
20 wooden skewers, soaked in water 30 minutes
1 cup plain yogurt
1 teaspoon freshly grated ginger
1 teaspoon minced garlic
1 tablespoon curry powder
1/2 lemon, juiced
Vegetable oil, for grilling
Cilantro leaves, for garnish
Directions
Thread the beef onto the soaked skewers, working the skewers in and out of the meat so that it stays in place while grilling.
Combine yogurt, ginger, garlic, curry powder, and lemon juice in a shallow platter and stir to combine.
Place the beef skewers into the yogurt marinade and turn them until they are well coated. Cover and let the meat marinate in the refrigerator for up to 2 hours.
Place a grill pan over medium heat and brush it with oil to prevent the meat from sticking. Grill the satays for 3 to 5 minutes on each side, until nicely seared and cooked through.
Serve piled on a large platter garnished with cilantro
Alright so we have Guacamole dip which adds the "Tex-Mex" touch already, however this next dish we is a must have in any football party. So for those of you who'd rather eat the "whole enchilada" here it is...literally:
Ingredients
1 (15-ounce) can refried beans
2 tablespoons hot sauce
Extra-virgin olive oil, for drizzling
4 scallions, cut into 1 inch pieces
1 (16 to 18 ounce) jar green chili or tomatillo salsa
2 tablespoons chopped cilantro, a palm full, chopped
1 (15-ounce) can black beans
2 teaspoons ground cumin, 2/3 palm full
1 (16 to 18 ounce) jar chipotle salsa
2 cups sour cream
1 lime, zested and juiced
2 ripe avocados
2 cloves garlic, finely chopped
1 lemon, juiced
1 jalapeno, seeded and finely chopped
Salt
2 plum tomatoes, diced
Pimiento stuffed jumbo Spanish olives, chopped
Tortilla chips, buy 2 sacks in 2 different colors/varieties
Directions
Heat refried beans in small nonstick pan over medium heat and season with hot sauce. Transfer the beans to a small, deep casserole dish. Scrape pan clean with rubber spatula and return to heat.
Add a little extra-virgin olive oil to the pan and raise heat to high. When the oil smokes, add the scallions and sear them, 2 to 3 minutes. Add green salsa to scallions and heat through. Add cilantro, remove salsa from heat, and layer on top of the beans.
Return the same pan to the stove, lower heat to medium and add black beans, heat through and season with cumin, layer on top of the green salsa.
Top the black beans with a layer of chipotle salsa. Mix sour cream the lime zest and juice and spread on top of the chipotle salsa.
Combine the meat of 2 ripe avocados with garlic, lemon juice, jalapeno and salt to form a chunky guacamole. Top the salsa with guacamole. Garnish the dip with the final layer of diced tomatoes and sliced olives.
Ingredients
Directions
Thread the carrots, cucumber, lettuce and tomatoes onto 4 long wooden skewers, alternating the vegetables. Refrigerate; serve with the dressing.
Directions
Combine 1 cup
tequila
, 1 cup
passion fruit nectar
, 1/4 cup
orange-flavored liqueur
, 2 teaspoons
superfine sugar
and a pinch of
salt
in a cocktail shaker. Shake well, then pour into 4 short glasses filled with crushed ice. Rub the rims with
lime wedges
, then add to the drink.
Dessert Time: S'mores Pizza
Ingredients
2 1-pound store-bought pizza-dough balls
1/4 cup slivered almonds
3 tablespoons unsalted butter
1 sleeve graham crackers, crushed (about 1 1/4 cups crumbs)
1/2 teaspoon chili powder
1/4 teaspoon cayenne pepper
1/4 teaspoon fine sea salt
3 cups mini marshmallows
2 4-ounce dark chocolate bars, broken into 1/4-inch chunks
Directions
Preheat the oven to 400 degrees F.
Form the pizza dough into two 12-to-14-inch rounds, 1/4 inch thick. Bake, preferably on a pizza stone or pizza pan, for 4 to 6 minutes, or until just beginning to brown. Leave the oven at 400 degrees F.
While the pizza crust is baking, toast the almonds in a medium dry skillet over medium-high heat. Transfer the almonds to a plate to cool.
Melt the butter in the skillet. Add the graham cracker crumbs, chili powder, cayenne and salt. Cook for 2 to 3 minutes, until the crumbs are well coated. Remove from the heat and set aside.
For each pizza, top the crust with half of the marshmallows and scatter half of the chocolate over the marshmallows. Return to the oven for 3 to 5 minutes, until the marshmallows are puffed and lightly browned. Sprinkle the pizza with half of the graham cracker mixture and top with half of the almonds. Let rest 3 to 4 minutes, slice and serve. Repeat to make the second pizza.